Cadex Electronics Inc. was established in 1980 in Vancouver, Canada. Isidor Buchmann, Founder, President and CEO, recognized that the full potential of nickel-cadmium batteries was not being achieved and developed a battery analyzer to exercise and rejuvenate them. In its early days, the company operated under the name Buchmann Enterprises Inc. and all activities were conducted in a small room of the founder's residence. In 1985, after the registered trademark for the name Cadex was granted, the company changed the corporate name to Cadex Electronics Inc. Cadex is derived from " CAD mium- EX erciser."
Battery Analyzers, Battery Chargers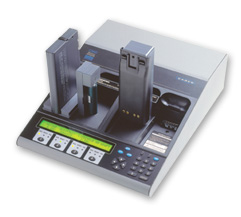 Cadex C7000 Series Battery Analyzers
The Cadex C7000 Series are full-featured programmable battery analyzers that service a wide range of rechargeable batteries.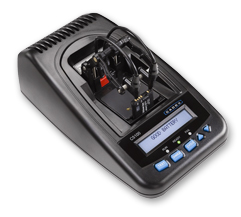 Cadex C5000B Series Battery Analyzer
The C5100B removes the guesswork of low runtimes in a mobile phone.
Testing the battery gives the user a clear assessment of battery performance in 4 minute


Battery Rapid Testers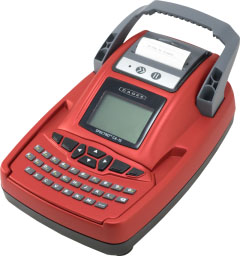 Spectro™, a technology that opens the door to a new way of battery testing
The Spectro CA-12 is the first hand-held battery tester that reads reserve capacity (RC), CCA , and state-of-charge (SoC) in a single, non-invasive 15-seconds test. The instrument is based on multi-model electrochemical impedance spectroscopy (Spectro™). Until now, this method was reserved to expensive laboratory peripherals and trained staff. The Spectro CA-12 makes the technology portable, affordable and simple to use.
Rapid testing of lead acid battery has evolved from the early carbon pile testers in the 1980s, to the single frequency AC conductance testers in the 1990s, to multi-model electrochemical impedance spectroscopy of today. While older technologies only verify the presence of energy and measure conductivity, capacity remains unknown. Capacity is the most comprehensive means of assessing a battery and could only be obtained with a full discharge/charge. Capacity measurement is most critical in checking deep-cycle batteries.
Advanced programmable and Battery Testing System for demanding tasks
C8000 BATTERY TESTING SYSTEM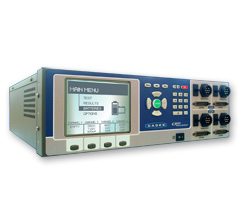 The Cadex C8000 Series Battery Testing System is a high-performance battery-testing device designed specifically for battery research, product test laboratories, manufacturing and experimental testing.
Programmable battery ports enable automatic and manual control

Backlit 7.5" graphical LCD for standalone application

Rack mount, desktop or portable applications
BATTERY CHARGERS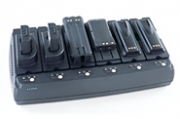 Our battery chargers offer refinements usually not found on competitive chargers. The rugged designs stand up to the critical demands of industrial users. Intelligent adapters allow simultaneous service of nickel-cadmium, nickel-metal-hydride and lithium-ion batteries on the same platform.